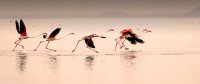 Experiences
Walking in the park trails
The ornithological park of Pont de Gau is a natural space of 60 hectares landscaped and completely protected. Reed beds, sansouires, canals, ponds, lawns, marshes...the diversity of its habitats makes it a true concentrate of Camargue.
That's a camargue
concentrate
Almost 7 kilometres of walking trails, where you can immerse yourself in this privileged environment. In the bird park, you can observe even closer the birds. The flamingos being fed, their parade, land and take off a few meters from the walkers.
In spring, colonies of herons, egrets and ibis nets in the trees. The birdpark is essential for migratory birds during their passage in the Camargue, Pont de Gau allowed us to observe more than 200 species of birds. Ornithological Marc Duquet called it " the only place in France where you can be so close to birds both literally and and figuratively. "
for kids and
adults

« We went to the Pont de Gau Ornithological park, it is a great place for children and adults. We learn a lot about all the species of birds of the Camargue. It is an activity that i recommend to spend a pleasant time with family. We even had a picnic in the park. »

- Célia