Tradition and culture
Every year, tradition are celebrate throught traiditonal days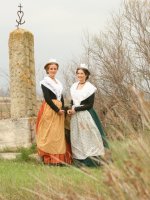 LA Croix de Camargue
La Croix de Camargue is the symbol of the area. It is located on the side of the road towards Aigues-Mortes. It symbolizes the three theological virtues and associates the two components of the people of Saintes Maries de la Mer :
- The Cross for Faith
- Anchor for Hope
- The heart for charity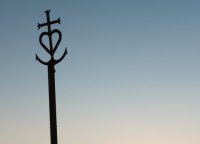 A Legacy
Share in the passion of the Provençal culture. The Camargue has given Provence its most wonderful traditions. It's not surprising that the maiden voyage of Mireille, imagined by Frédéric Mistral, ended in Saintes Maries de la Mer. The costumes, gardians,Camargue races and abrivados... set the pace for the year in this village. This surprising vitality is expressed in the haert-felt wish to have averyone who comes here discover and share in these traditions
February :
- Camagri, Camargue Horse Fair
April :
- Camargue-Style easter
May :
- Gypsy Pilgrimage
June :
- Port Festival
- Village Festival
July :
- Horse festival
- The festo Vierginenco :
This is the moment when each young girl takes off her traditional Mireille Costume and puts on her Arlésian one and come of age. This festival, created by Frédéric Mistral in 1904, takes place every year in July in Les Saintes Maries de la Mer
August :
- "Camargue Plurielle"
September :
- Sea Lavender Festival (Fête de la Saladelle)
October :
- Pilgrimage of the Saints : Saint Marie Jacobé et Saint Marie-Salomé
November :
-Abrivado Festival