Experiences
Vincent Van Gogh at Saintes Maries de la Mer
"The Mediterranean has a color like mackerel, that is to say changing, we do not always know if it is green or purple, we do not always know if it is blue, because the second after the changing reflection has taken a pink or grey tint"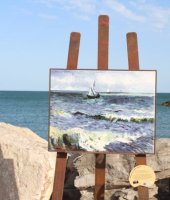 the van gogh walking tour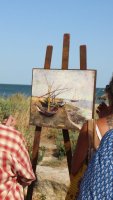 Vincent Van Gogh is a well-known artist for its colorful painting. He painted a lot of paintings in Provence. He came here in 1888. He lived in Arles for a while. At this time, he came to Les Saintes Maries de la Mer at the beginning of june 1888. At this time, the village only count few cabanes de gardians and houses build around the church. There was around 800 inhabitants : fishermen, guardians and peasants.
In his exchanges with his brother Theo, he talked about his one-week stay at the Saintes Maries de la Mer. He tells him he wants to paint "the effect of a blue sea and a blue sky". He makes three paintings and 11 drawings. His stay in Arles ended in 1889 after having made nearly 300 works. He was then interned in the asylum of Saint-Rémy-de-Provence.
"We were able to take part in the guided tour for this week dedicated to Van Gogh. These paintings allow us to imagine the beauty of Les Saintes Maries de la Mer of yesteryear and to immerse ourselves in the footsteps of the painter in this small village of Camargue"
-Samuel
125 years later, Van Gogh is honoured at the Saintes Maries de la Mer with "le parcours Van Gogh". Inaugurated in June 2022, this project represents years of reflection and work. Throughout the event, the painter's paintings depicting the life of the village of yesteryear are displayed on the waterfront. The Van Gogh week will take place every year in June.